Join the wine rebellion...

Become a member of the Wine Party today!
Sort of like a club but more like a movement and you get to be a member of the Party. But this one's run by a gang of renegades. And you don't get a card.
We bring you the best of the artisan, hand crafted wines of the Garagiste Guild of BC and beyond. These wines are hard to find but worth it. You might stumble across one in your favorite restaurant, or even liquor store, or maybe on your best friend's table but you won't find them all together. Now we bring these cult wines to you.
Each Garagiste Guild offering brings you a special selection of six wines from our 'garagistes'. Selected for you with care. There's no membership fee. No commitment to have to take anything. Why--because we know you won't be able to help yourself. It's just too good. And, our Wine Party embraces the anarchists.
---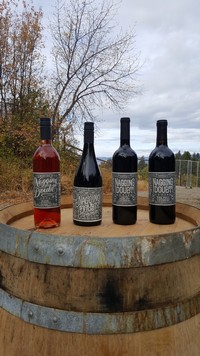 October 2017 Garagiste Guild showcases the wines of Nagging Doubt Winery located in Kelowna. Several of these wines are sold out, but Rob and Abbey Westbury have saved a few bottles just for you. To order your case click here.to go to our online store.
Every wine has a story and these garagistes are living it. And we want you to come along with us.