September 4, 2015 | Garagiste North
So Much Fun--Let's Do it Again!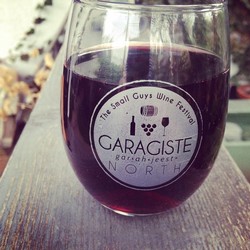 They came, the drank, they tasted and they left. And if you missed it, check out these great articles to give you a feel for the event: We're doing it again in Kelowna, September 27th, come join the party!
My Van City : The Small Guys Shine
by Sam Hauck
Who are the 'small guys' of the BC wine world? They are several small, wineries, both physical and virtual, which are very specialized and thus produce what's called 'small lots' or under 2000 cases of wine per year. These small artisan producers are modeled on the 'garagiste' winemakers of France, who gained attention producing impressive wines in their garages.
Some have been around for a while, while others only have a few vintages under their belts. With the help of Terry Meyer Stone and Jennifer Schell, twenty wineries came together last year under the banner 'Garagiste North' to have a venue to showcase their wines and gain public recognition. Their first wine festival was held last September in Okanagan Falls and it was a great success; one of the best I've attended. It was a beautiful day and the venue, food and entertainment were all top notch. The very best part, though, were the wines. So you can imagine how excited people were when they decided to bring this event to Vancouver last month...(read more)
Terry David Mulligan: Tasting Room Radio
What is a garagiste? (gar-ah-jeest). It started out in France (of course) where it was a derogatory phrase for those avante garde and crazy mavericks making wine in their garage and outside the highly regulated system. Gradually and grudgingly came the acknowledgement that something really interesting was happening with these small case lot artisan wines, and a movement was born.
Anarchist. River Stone. SEVEN DIRECTIONS. NAGGING DOUBT. CoRCeleTTes. Roche. SynCHROmesh. Kraze Legz/Skaha ROCHE. Niche.
Couldn't fit everyone in but we are committed to bringing you all these stories over the course of the year.
They are all driven, passionate winemakers who qualify by producing under 2000 cases a year and use only BC Fruit.
Small they may be but these wineries have an effect on the future of BC wines.
They take the time and commitment to grow different varietals, use experimental methods and take chances in the cellar that few others would or could. When you find one you like it's best to buy and hold because all productions are... (read more and listen to the interviews)